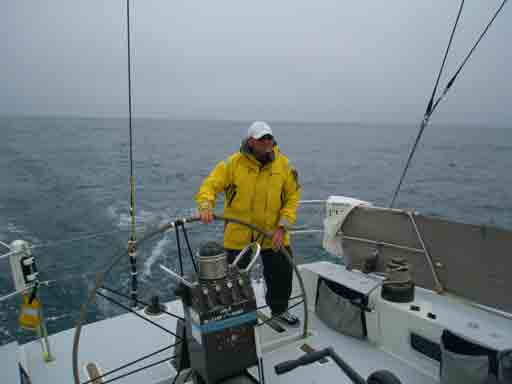 Recent Deliveries
May 2016 --- Newport Beach to San Francisco
Beneteau 393

March 2016 --- Turks and Caicos thru Panama Canal to San Francisco
Oyster 53

September 2015 --- Marina Del Rey to New Zealand
Lucia e Luca - Jeanneau 53

August - 2015 --- Hawaii to Marina Del Rey
Between The Sheets - Jeanneau 52

June - 2015 --- Anacortes Washington to San Diego
Boondoggie - Spencer Lincoln Custom Lobsteryacht 37

April - 2015 --- Channel Islands to Anacortes Washington
Dulce Vida - Defever 52

March - 2015 --- Cabo to Marina Del Rey
Between The Sheets - Jeanneau 52

2015 - January --- Palma De Mallorca to Gibraltar
Swan 90
January - 2015 --- Blaine OR to Newport OR
Dreamboat - 40 Benetteau
August 2013 thru December 2014 Boat Captain for Swan 56
West Coast, Panama Canal, Caribbeann, East Coast
-San Francisco to Ensenada
-Panama to St Maarten via Jamaica and Domincan-Puerto Rico
-All around Caribbean
-St Maarten to NYC via Bermuda
-NYC to Newport RI
-Newport RI to Charleston, South Carolina
-Charleston, SC to St Maarten
July/August-2013 -- Hawaii to MDR
Between The Sheets - Jeanneau 52

January-2013 -- Cabo to Marina Del Rey
TAI PAN - Beneteau  50

January-2013 -- Puerto Vallarta to Marina Del Rey
BLOODHOUND  - 90 ft  William Fife design Gaff Cutter
October-2012 -- Marina Del Rey to San Francisco
QUIVER - Santa Cruz 40

September-2012 -- Coos Bay to Port Townsend
MARCELLAS WINGS - Vagabond 47

September-2012 -- Anacortes to Santa Barbara
Viking 58

June-2012  -- Portland Oregon to Ensenada
SEDONA-Island Packet 370
July-2012 -- Coos Bay, Oregon to Port Townsend, Washington
Vagabond 47 Garden Ketch

Oct/Nov -- 2012 San Diego to Panama Canal
Island Packet 370
May-2012 Portland, Oregon to San Diego 1100nm
Island Packet 370
May-2012 -- La Paz to Marina Del Rey
Mainship 390
April-2012 -- Marina Del Rey to Coronado Cays
Hunter 27
April-2012 -- Cabo to Marina Del Rey
Between the Sheets, Jeanneau 52
July/August 2011 -- Transpac Race and Delivery Home
Transpac Race LA Harbor to Hawaii - 2350 miles, 14 days
Hawaii to Marina Del Rey, CA - 2850 miles, 16 days
Between the Sheets, Jeanneau 52
September-2011 -- Long Beach to Seattle
Catalina 38
October-2011 -- Baja HA-HA XVIII - San Diego to Cabo
Hylas 45
November-2011 -- Puerto Los Cabos to San Diego
Passport 40





Copyright © 2016 OffshoreDeliverySkipper.com - All rights reserved.
Site Developed by Latitude805.com
I believe that boat preparation is key to a successful delivery. Both boat, crew, provisioning and the boats electronics and subsystems should be inspected and in good working order.

I believe that the Captain, crew and owner should be able to trust and depend on each other as well as get along. Safety and a secure passage are paramount to me. Having fun and enjoying the experience is what keeps me coming back for another passage.
I am easy going both on and off the water but I take my deliveries seriously and do not believe that a professionally hired Captain or crew should drink while delivering a boat with the exception of perhaps something to go with dinner. Party activities are best saved for after the delivery. I am a non smoker for those sailors who would want to know but not offended by those sailors that do smoke.